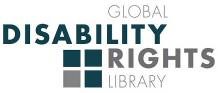 The Global Disability Rights Library (GDRL) project improves the lives of people with disabilities in developing countries by delivering digital knowledge on disability rights to advocates, policymakers, and civil society institutions. information made available through this initiative has transformed the lives of people with disabilities in developing countries.
USICD has partnered with the University of North Carolina at Greensboro WiderNet Project to collect an extensive digital repository with thousands of toolkits, best practice materials, national and regional disability legislation, video, audio, and other advocacy tools. This robust collection is delivered to Disabled Persons Organizations in countries that lack adequate internet access via an eGranary device—a 4 Terabyte portable hard drive that, so far, has helped bring more than 2.7 million documents on disability rights to thousands of users beyond the reach of the Internet.
Initial funding received from USAID allowed USICD and WiderNet to ship eGranary Digital Libraries to 60 disabled persons organizations, government agencies, non-governmental organizations, academic institutes, and a public library, establishing a vibrant network of partners on the ground in 14 countries. 
Did you know Malawian innovator and author of The Boy Who Harnessed the Wind, Mr. William Kamkwamba, is also contributing learning modules to the eGranary?
Via volunteer assistance from Gallaudet University student, we are currently updating the Library and seek additional funding to expand our impact globally. Please consider donating.