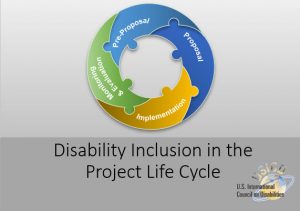 USICD is available to provide training on a variety of disability inclusion and disability rights topics. For example:
Capacity Building for DPOs
The Convention on the Rights of Persons with Disabilities (CRPD) & the Sustainable Development Goals (SDGs)
CRPD Article 32 – International Cooperation
Disability Inclusion: Donor Policies and Practices
Disability Inclusion in the Workplace – Receive a free copy of our workplace inclusion publication with this training!
Disability Inclusion in the Project Lifecycle – A must have for international development contractors!
Know Before You Go! Training designed for HR professionals in global companies and employees with disabilities considering an overseas assignment.
Strategic Advocacy Planning
Contact us to learn more about our training portfolio and pricing.