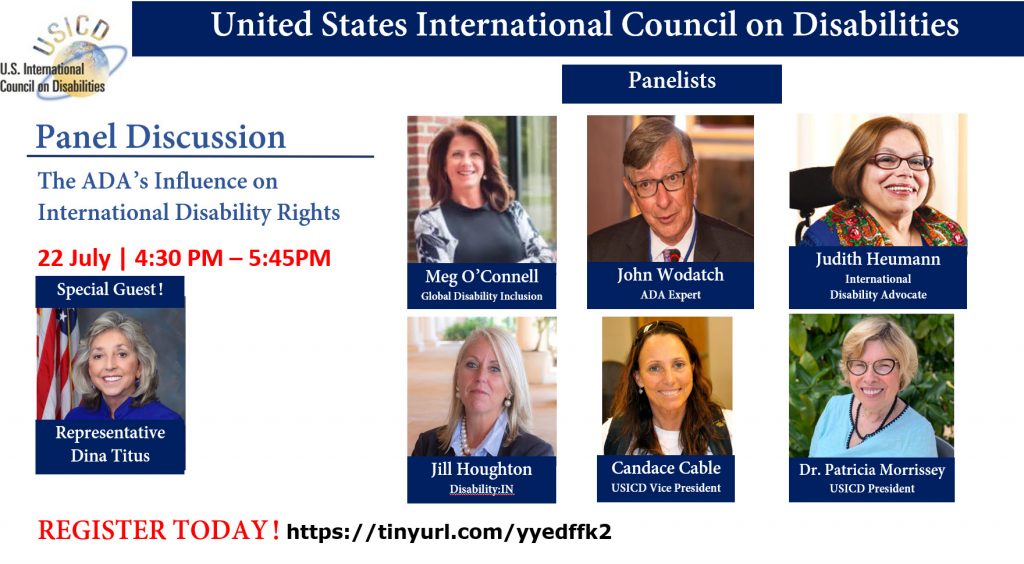 Join the United States International Council on Disabilities (USICD) for an important panel discussion on the ADA's influence on international disability rights.
Our Special Guest is Representative Dina Titus from Nevada.
The panel will be facilitated by Meg O'Connell, USICD Board Member and CEO of Global Disability Inclusion!
Panelists Include:
John Wodatch – ADA expert, former Chief of the Disability Rights Section of the Civil Rights Division, U.S. Department of Justice
Judith Heumann – Author, US and international disability rights activist. Former Special Advisor on International Disability Rights, US Department of State
Jill Houghton – President & CEO of Disability:IN
Candace Cable – USOPC Hall of Fame Paralympian, CCO for Social Cohesion Resources, Vice President of USICD
Dr. Patricia Morrissey – President of USICD and Director of the Center for Disability Studies in the University of Hawai'i at Manoa College of Education.
CART and ASL will be provided.
Registration closes on 22 July at 4:30 pm EDT. Please click here to register on our Eventbrite page.